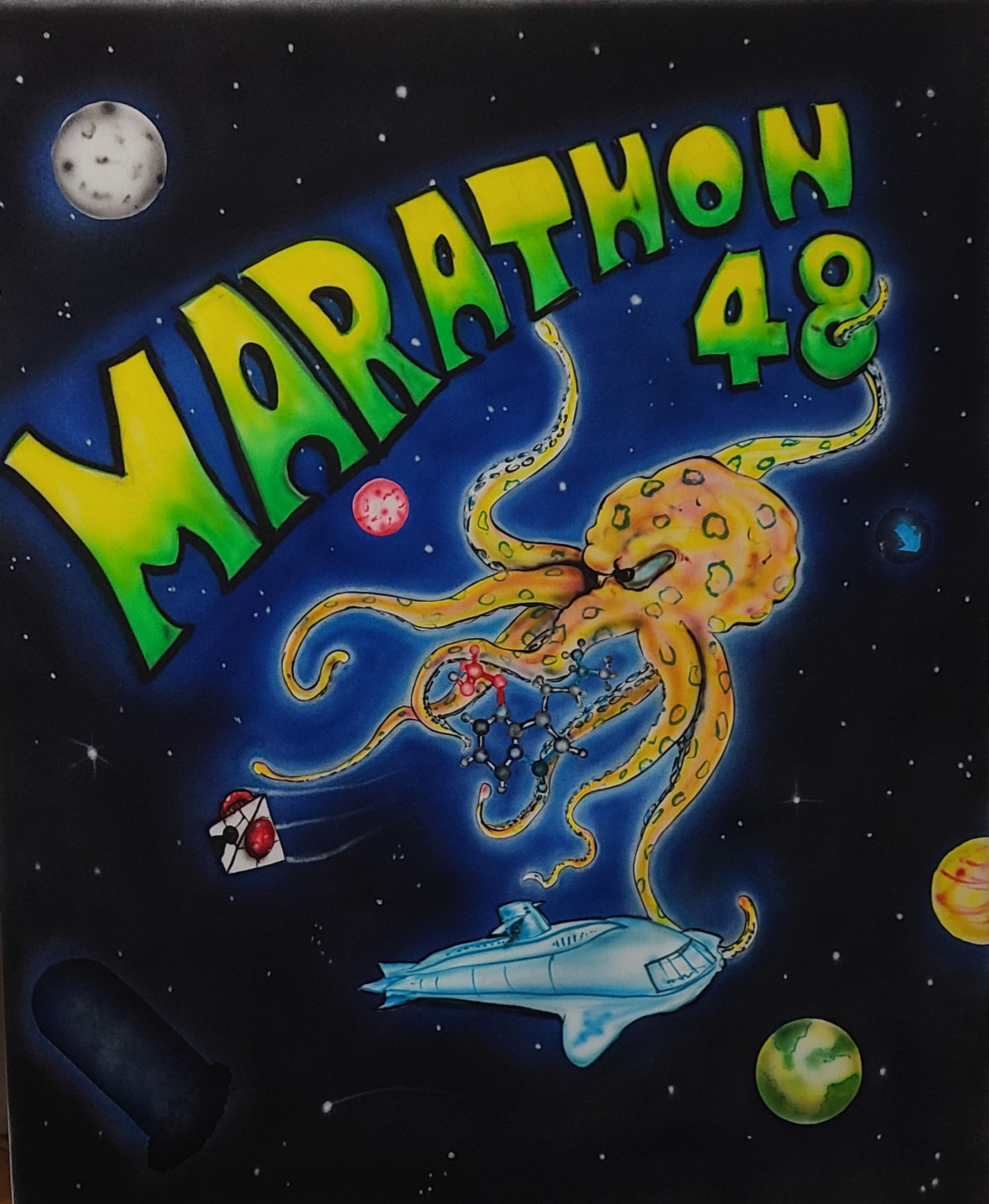 48th Science Fiction Marathon - Jan. 20-22, 2023
More information will be released as we get closer to the Marathon itself. Updates will be announced on our Facebook page @CWRUFilms as well as through the 48th Annual Sci-Fi Marathon Facebook event page found here.
Here is the current schedule:
Friday, January 20
8:00pm
Lightyear (2022, PG, DCP)
10:10pm
Get Smart (2008, PG-13, 35mm)
Saturday, January 21
12:15am
Surprise 1: The Last Airbender (2010, PG, 35mm)
2:15am
Zeta One (1969, R, TBA)
4:00am
Murder by Television (1935, Passed, TBA)
5:15am
Star Trek: The Motion Picture (1979, G, DCP)
7:55am
The Flying Saucer (1949, Approved, TBA)
9:15am
Morbius (2022, PG-13, DCP)
11:15am
Surprise 2: Beyond the Time Barrier (1960, NR, Digital)
12:45pm
Ron's Gone Wrong (2021, PG, DCP)
2:50pm
Godzilla vs Mechagodzilla (1974, G, 35mm)
4:30pm
20,000 Leagues Under the Sea (1916, Passed, Digital)
6:10pm
Ghostbusters (1984, PG, 70mm)
8:10pm
Voyage to the Bottom of the Sea (1961, PG, TBA)
10:10pm
Army of Darkness (1992, R, DCP)
11:50pm
E.T. The Extra-Terrestrial (1982, PG, 35mm)
Be sure to check the 48th Annual Science Fiction Marathon Facebook Event for the most recent information.
See below or click the movie title for more detailed descriptions.
Movies, order and times subject to change. Check back for more information closer to the event.

Tentative Food Schedule TBA

Important Details

Free parking is available in both Lot 01A and Lot 44. Lot 1A is open for entry between 5:00 pm and 9:00 pm on Friday, January 17th. Lot 44 will be available after 4:30 pm on Friday. If you arrive earlier than 4:30 pm, you will have to pay for parking in the Veale Parking Tower (lot 53) at the posted rates. If you park at a location other than Lot 44 or Lot 1A, we are not responsible for any parking tickets or loss of access to your vehicle. It is highly suggested that marathon attendees stick with the lots we recommend.

Early Arrivals

If you arrive before 6pm on Friday for the Marathon, there will be NO OFFICIAL SPACE for you to camp out. If you intend to arrive early, please anticipate making your own arrangements.

Admission Information

Admission information is subject to correction. Please check back before finalizing your plans.

Pricing for this year's science fiction marathon is $30 per person. Tickets go on sale Friday, January 20 at 6pm in the lobby of Strosacker Auditorium. No one under 18 admitted without parental supervision.

If you are unable to stay for the entire marathon, you may purchase tickets for movies individually. If you surrender a state or college ID to us, we will allow you to pay $4 per movie you wish to stay for. You are free to stay for more movies than you initially pay for, however you will be charged the balance before return of your ID. You may also simply purchase a wristband for the remaining balance of the marathon upon your arrival if you do not wish to surrender an ID (maximum charge of $30.)

Pre-sale tickets will be sold Monday, January 16 through Friday, January 20 in Tinkham Veale University Center. A $25 per marathon pass price will be available to CWRU faculty, staff, and students as well as employees of University Circle businesses. Other members of the community will be able to purchase for $30. All wristbands will be available for pick-up the evening of the event when the doors open. Pre-sale tickets do not allow you to enter the theater before 6:00 pm.

Rules

No alcohol. No glass bottles. No fire hazards. Bring deodorant. Bring a toothbrush. Don't forget your towel. No one under 18 admitted without parental supervision. All bags are subject to inspection before admittance.

STAGE RULES: It is no longer possible to remove the classroom A/V equipment from the stage (stage right/house left side) for Marathon. Aside from losing precious mattress/sleeping bag real estate, we must prevail upon our audience to not fiddle with, place, store, or spill food & beverages on, fold, spindle, mutilate, or otherwise in any way disturb that equipment.

COVID-19 RULES: In addition to the added safety measures listed in our in-person attendance statement, all participants must follow all our covid procedures listed on our dedicated COVID-19 page films.case.edu/covid-19. Anyone caught intentionally breaking any of these rules will be asked to leave the auditorium without a refund.

Rules subject to change at the discretion of the CWRU Film Society. Check back closer to the event for any additional rules.

---

Detailed Movie Descriptions

Friday, January 20
8:00 p.m. Lightyear (2022)
Rated PG (100 min)
Director: Angus MacLane
With the voices of Chris Evans, Keke Palmer, Peter Sohn
Format: DCP
While there are many movies ahead, the Marathon will not extend to infinity and beyond. Nonetheless, we can start off with the real Buzz, his robot cat companion, and recruits Izzy, Mo, and Darby. Tune in as Chris Evans captains the effort against a Brolin-voiced antagonist. Mind you, this is James Brolin voicing Zurg as we witness the inspiration for some well-known Toy Story figures.
Read more about it at the IMDb

10:10 p.m. Get Smart (2008)
Rated PG-13 (110 min)
Director: Peter Segal
With Steve Carell, Anne Hathaway, Alan Arkin
Format: 35mm Film
This is the film adaptation of the 1965-1970 television series. You will spy a large number of familiar faces. Although reviews were not glowing, the movie was a solid commercial success. Maxwell Smart longs to be a field agent for CONTROL, especially to work against the the terrorist organization KAOS. Will Agent 99 and lots of gadgets be enough?
Read more about it at the IMDb

Saturday, January 21
12:15 a.m. SURPRISE 1: The Last Airbender (2010)
Rated PG (103 min)
Director:M. Night Shyamalan ?
With Noah Ringer, Nichola Peltz Beckham, Jackson Rathbone
Format: 35mm
Follows the adventures of Aang, a young successor to a long line of Avatars, who must master all four elements and stop the Fire Nation from enslaving the Water Tribes and the Earth Kingdom.


Read more about it at the IMDb

2:15 a.m. Zeta One (1969)
Rated R (86 min)
Director: Michael Cort
With James Robertson Justice, Charles Hawtrey, Robin Hawdon
Format: TBA
The villain, James Robertson as Major Bourdon, is totally unscrupulous. The women, terrestrial and not, are not overly burdened with costuming. The Angvians (hmm…took some spine to name them that) are coming to Earth to kidnap women to repopulate their own planet. Oh, behave! Will Earth girls be easy…to capture? Find out in this feature film that also runs under the title The Love Factor.
Read more about it at the IMDb

4:00 a.m. Murder by Television (1935)
Rated Passed (60 min)
Director: Clifford Sanforth
With Bela Lugosi, June Collyer, Huntley Gordon
Format: TBA
Bela Lugosi plays Dr. Arthur Perry in this murder mystery. The victim is James Houghland. He has brazenly refused to sell his invention by which television signals can be instantaneously sent anywhere in the world. He has, in fact, refused what would seem to be the prime market, namely… television companies. When the initial broadcast doesn't stay "live" for Mr. H, it is up to Chief Nelson to root through the many suspects.
Read more about it at the IMDb

5:15 a.m. Star Trek: The Motion Picture (1979)
Rated G (131 min)
Director: Robert Wise
With William Shatner, Leonard Nimoy, DeForest Kelley
Format: DCP
Give them a V. Give them a G. Give them an E. Give them an R. What's that spell? Umm… Kirk, Spock, Sulu, Chekov, McCoy, Scotty, and Uhura (RIP Nichelle Nichols) warp the small screen into the big screen for the first time. Other "carbon units" on the Enterprise have a rough go of it, redshirted or not, as Admiral Kirk insists on taking the helm once again.
Read more about it at the IMDb

7:55 a.m. The Flying Saucer (1950)
Rated Approved (69 min)
Director: Mikel Conrad
With Mikel Conrad, Pat Garrison, Hantz von Teuffen
Format: TBA
Call them unidentified aerial phenomena (UAP) or unidentified flying objects (UFO), but let's abbreviate things. Advice to the adjective crew describing this entry as an "independently made American black-and-white science fiction spy film drama." User reviews say this movie shows a lot more Alaskan scenery than aliens or spaceships. Despite its status as the earliest feature-length flying saucer film, the odd efforts of the Russians and Americans will likely be more memorable for laughability.
Read more about it at the IMDb

9:15 a.m. Morbius (2022)
Rated PG-13 (104 min)
Director: Daniel Espinosa
With Jared Leto, Matt Smith, Adria Arjona
Format: DCP
Dangerously ill with a rare blood disorder and determined to save others from the same fate, Dr. Morbius attempts a desperate gamble. While at first it seems a success, a darkness inside of him is soon unleashed. Jared Leto tries not to suck while trading universes and Matt Smith makes the cast a real who's who. What could go wrong experimenting with chemicals, electroshock, vampire bats, or new extended Marvel storylines?
Read more about it at the IMDb

11:15 a.m. SURPRISE 2: Beyond the Time Barrier (1960)
Noit Rated (74 min)
Director: Edgar G. Ulmer ?
With Robert Clarke, Darlene Tompkins, Arianne Ulmer
Format: Digital
In 1960, a military test pilot is caught in a time warp that propels him to year 2024 where he finds a plague has sterilized the world's population.


12:45 p.m. Ron's Gone Wrong (2021)
Rated PG (107 min)
Directors: Sarah Smith, Jean-Philippe Vine, Octavio E. Rodriguez
With the voices of Jack Dylan Grazer, Zach Galifianakis, Ed Helms
Format: DCP
B-bots from giant tech company Bubble are a combination of smartphone and best friend. When awkward middle-schooler Barney is paired with malfunctioning B-bot Ron, this computer-animated feature takes off on a journey to explore the messy nature of true friendship.
Read more about it at the IMDb

2:50 p.m. Godzilla vs. Mechagodzilla (1974)
Rated G (84 min)
Director: Jun Fukuda
With Masaaki Daimon, Kazuya Aoyama, Reiko Tajima
Format: 35mm Film
The relationship between humans and Godzilla can be a complicated one, but this film has an explanation that can be easily appreciated. When it seems the big guy is fulfilling a prophecy by destroying Earth, the real Godzilla stands up to reveal the culprit as a mechanical impostor.
Read more about it at the IMDb

4:30 p.m. 20,000 Leagues Under the Sea (1916)
Rated Passed (85 min)
Director: Stuart Paton
With Allen Holubar, Dan Hanlon, Edna Pendleton
Format: Digital
Much like parsecs, leagues are units of distance traveled. In this case, it's about 60,000 miles of total undersea travel, as opposed to an impossible depth measurement. Jules Verne wrote the novel bound to inspire this and other films in 1870. Though the invention of submarines dates back to the 16th century, Verne's writing typically predicted future advances in technology. Perhaps this makes Captain Nemo an omen as well. This early silent film version incorporates elements from both the 1875 novel The Mysterious Island and 20,000 Leagues.
Read more about it at the IMDb

Live score performed by Jeff Rapsis.

6:10 p.m. Ghostbusters (1984)
Rated PG (105 min)
Director: Ivan Reitman
With Bill Murray, Dan Aykroyd, Sigourney Weaver
Format: 70mm Film
Oh, you KNOW who you're gonna call. Try your best to clear your mind and not think of anything. Journey back to New York, NY, the city so nice they haunted it twice. At least. Don't cross the streams, be careful of the ectoplasm slime splash zone, and get ready to sing along for the O.G. (original Ghostbusters) projected on 70mm film.
Read more about it at the IMDb

8:10 p.m. Voyage to the Bottom of the Sea (1961)
Rated PG (105 min)
Director: Irwin Allen
With Walter Pidgeon, Joan Fontaine, Barbara Eden
Format: TBA
The Van Allen radiation belt has caught fire. That is what Harriman Nelson and his crew discover when bringing a nuclear submarine up from beneath the Arctic Ocean. Though our hero has a plan to save Earth from destruction, the United Nations is unconvinced. Nelson is sure of his plan, but opposition comes even from within the submarine's crew.
Read more about it at the IMDb

10:10 p.m. Army of Darkness (1992)
Rated R (81 min)
Director: Sam Raimi
With Bruce Campbell, Embeth Davidtz, Marcus Gilbert
Format: DCP
Sam Raimi directs Bruce Campbell once again as Ash must go medieval on, well, just about everyone. Strange things are afoot at S Mart and it is back to the Middle Ages to deal with the Necronomicon again. Can the Book of the Dead, Ash's chainsaw and boomstick, and great horror comedy effects lead to a happy ending? The Evil Dead had a budget of $350,000 nine years earlier, but this third film was made for $11 million.
Read more about it at the IMDb

11:50 p.m. E.T. The Extra-Terrestrial (1982)
Rated PG (115 min)
Director: Steven Spielberg
With Henry Thomas, Drew Barrymore, Peter Coyote
Format: 35mm Film
Phone home and let them know you'll be a couple of hours yet. You know the score…Best Original Score thanks to John Williams…directed by Steven Spielberg, Academy Award for Best Picture, and one of the most loved and iconic aliens in film history. Don't think about the bizarre book sequel The Book of the Green Planet, but enjoy every memorable scene again in this fitting finale appropriately on another great 35mm print.
Read more about it at the IMDb