Prices and Location
Admission
| | |
| --- | --- |
| Adult: | $4.00 |
| Children 12 and under: | $2.00 |
| Five Pass: | $16.00 |
| Ten Pass: | $30.00 |
A Five or Ten Pass entitles you to admission to 5 or 10 movies and can be used to pay for admission for yourself and your friends. For example, you can buy a five or ten pass and you and your date can go see the same movie. This will consume 2 admission points.
You can get group discounts if you have a group of 10 or more people and reach out to filmdirectors@case.edu ahead of time and tell us. Your group will also get a section of reserved seats in the balcony.
Concessions
Popcorn:
S: $1.00
M: $1.50
L: $2.00
Candy:
S: $1.00
L: $2.00
Fountain Drinks:
S: $1.00
M: $1.50
L: $2.00
Bottled Drinks:
$2.00
Hot Drinks:
$0.50
CaseCash
After hearing numerous requests for the option to use CaseCash to pay at Film Society, we've installed a CaseCash reader. If you're one of the many people who have been looking to spend their CaseCash at one of our movies, you can now stop by Strosacker and use it for both tickets and the concession stand.
Sneak Previews
From time to time, we have a free advance screening of an upcoming film, also known as a sneak preview. Some special rules apply, the most important of which is that cell phones and other recording devices are not permitted. If you bring one, we will ask you to check it with us for the duration of the showing. Also, sneaks tend to be crowded, so show up early to make sure you get seated in time.
Where are we?
We are located on the Case Western Reserve University campus in University Circle, Cleveland, OH. For instructions on how to reach the campus, see Visiting Campus and directions from lot 44 to Strosacker on the campus web server. Click on the maps below to get larger views of each map.
Free Parking Available
As of Fall 2010, our parking has been moved by the university from Lot 1A (a surface lot off Martin Luther King Blvd.) to Lot 44, which is situated at the intersection of Murray Hill Road and Adelbert Road, just next to the bridge across the train tracks.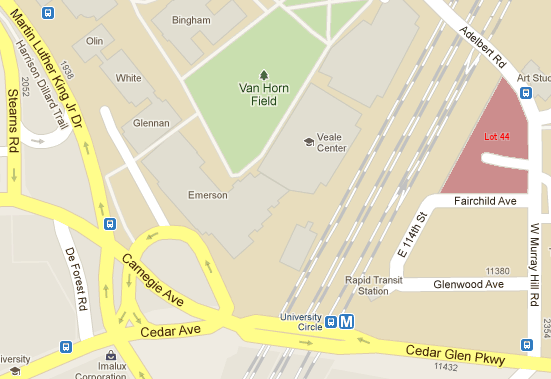 (click for a map of the entire main campus)



Once you get on campus, you can find us in Strosacker Auditorium.