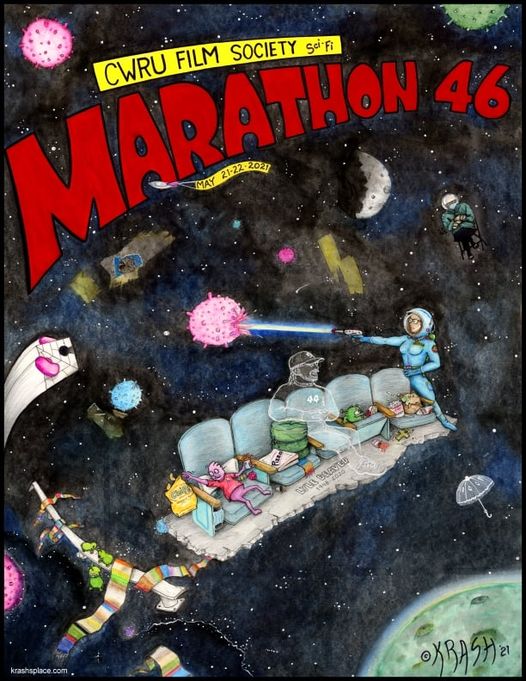 46th Science Fiction Marathon - May 21-22, 2021
Update Regarding In-Person Public Attendance At Marathon 46
After extensive conversations with CWRU Risk Management, we have determined that Marathon must be subject to the same COVID-19 policies which have been in effect for most of this year. Like our regular showings during the 2020-2021 Academic Year, only people with an active CWRU ID will be allowed to attend/participate in the in-person version of Marathon this year and a campus COVID test will be required within the past week. Vaccination is strongly advised. The number of available seats in the auditorium will also remain significantly curtailed, with an occupancy limit of 50 including staff. Long-term attendees should contact us at filmmarathon@case.edu regarding in-person attendance.

If you are following along from home, we hope you'll join us for the digital component of the Marathon. At the bottom of this page in each of the movie's descriptions, we have provided sources where you can purchase or stream these movies at home. Links to purchase or stream the surprises will be displayed when the film is revealed. We encourage you to follow along with us throughout the event.
Schedule Summary
Here is the current schedule:
Start Time
Title
Friday, May 21st
6:00pm
Johnny Mnemonic (1995, R, 35mm)
8:20pm
Total Recall (1990, R, Blu-ray)
10:25pm
Surprise 1: Werewolves on Wheels (1971, R, Blu-ray)
Saturday, May 22nd
12:00am
Gog (1954, NR, Blu-ray)
1:35am
Minority Report (2002, PG-13, 35mm)
4:05am
Dark Star (1974, G, Blu-ray)
5:40am
Schlock (1973, PG, DCP)
7:40am
Mystery Men (1999, PG-13, DCP)
9:55am
Gattaca (1997, PG-13, 35mm)
12:30pm
Surprise 2: Spaceballs (1987, PG, Blu-ray)
2:20pm
Real Genius (1985, PG, 35mm)
4:20pm
The Invisible Man (1933, NR, DCP)
5:45pm
Alien: Covenant (2017, R, DCP)
8:30pm
Star Trek IV: The Voyage Home (1986, PG, Blu-ray)
Be sure to check the 46th Annual Science Fiction Marathon Facebook Event for the most recent information.
See below or click the movie title for more detailed descriptions.
Remote Attendance
The ultimate way to enjoy the CWRU Science Fiction Marathon - from the comfort of your own home! (AKA we love you but STAY AWAY!) Grab this package of goodies to experience Thon like never before! Popcorn, candy, a handy guide of what to watch, special pins for the diehard collector in all of us...and more! Each pack also includes a special 3D printed item related to one of the films shown this year - so get yours now!

Limited time only see store for details.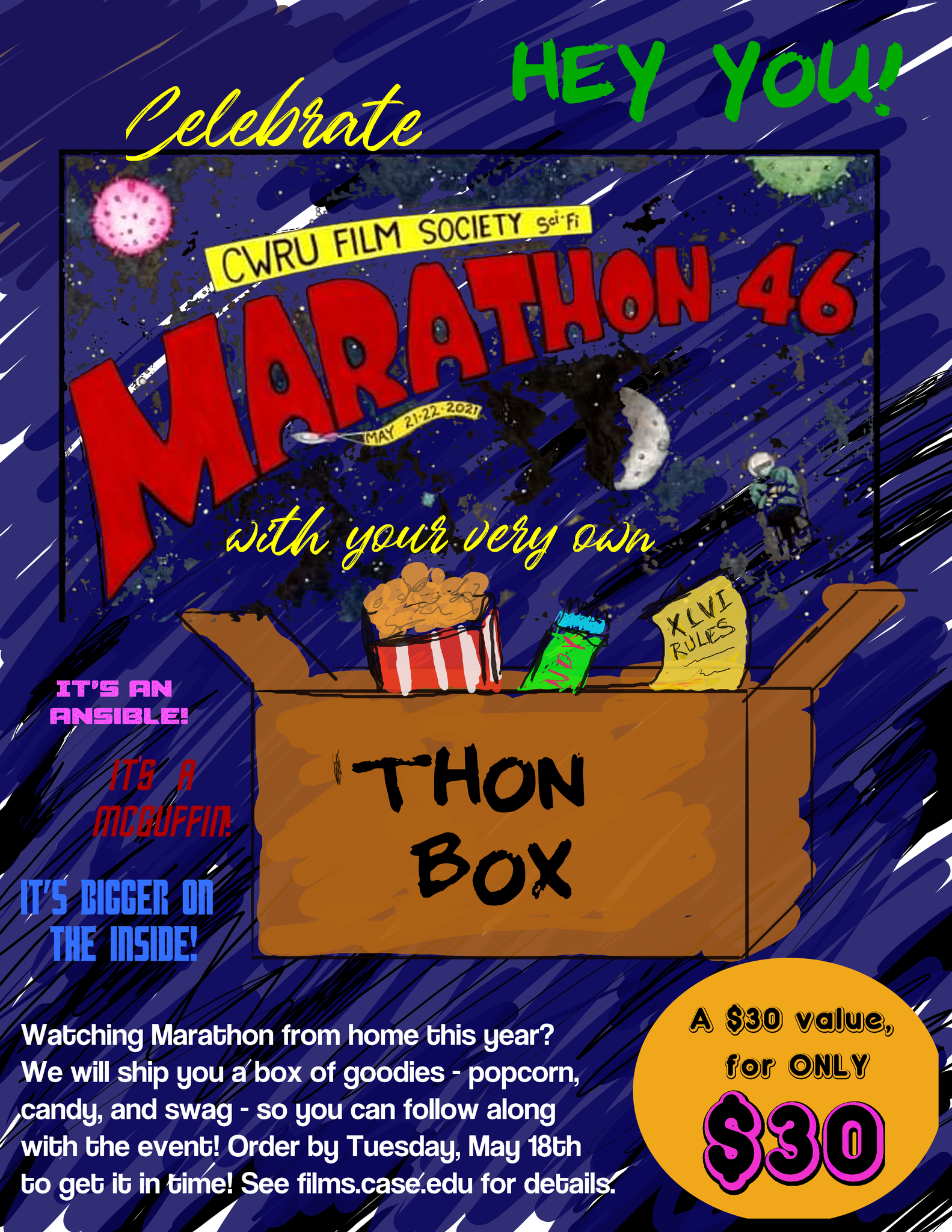 Tentative Food Schedule
Friday, May 21st
6:00pm - Coffee House Sandwiches ($3.50/half)
Saturday, May 22nd
12:00am - Krispy Kreme Doughnuts ($4.50/3-pack)
9:00am - Bialy's Bagels ($2.00 each)
12:30pm - Grum's Subs ($4.00/quarter sub)
7:45pm - Presti's Stromboli ($4.00 each)
NO OUTSIDE FOOD OR DRINKS ALLOWED IN STROSACKER AUDITORIUM THIS YEAR

All food offerings will be grab-and-go ONLY with designated eating areas outside of the theater. Food offerings, times, and cost subject to change. Check back for more information closer to the event.
During marathon, real-time updates will be posted to the CWRU Film Society Facebook Page.
Important Details
Free parking is available in both Lot 01A and Lot 44. Lot 1A is open for entry between 5:00 pm and 9:00 pm on Friday, May 21st. Lot 44 will be available after 4:30 pm on Friday. If you arrive earlier than 4:30 pm, you will have to pay for parking in the Veale Parking Tower (lot 53) at the posted rates. If you park at a location other than Lot 44 or Lot 1A, we are not responsible for any parking tickets or loss of access to your vehicle. It is highly suggested that marathon attendees stick with the lots we recommend.
Early Arrivals
Due to saftey concerns, there will be NO OFFICIAL SPACE for you to camp out before check in starts. We advise everyone to only show up when check in starts this year. We also recomend that people do not sleep in Strosacker Auditorium this year and have someplace else to sleep during the marathon.
Admission Information
Admission information is subject to correction. Please check back before finalizing your plans.
Pricing for this year's science fiction marathon is $30 per person. Tickets go on sale Friday, May 21 at 5pm in the lobby of Strosacker Auditorium. No one without active CWRU ID will be admitted.
For this year's marathon, we are unable to offer tickets for movies individually We are only able to offer full marathon passes at a cost of $30.
Pre-sale tickets will be sold on CampusGroups. A $30 per marathon pass price will be available to all CWRU community members. All wristbands will be available for pick-up the evening of the event when the doors open. Pre-sale tickets do not allow you to enter the theater before 5:00 pm.
Rules
No alcohol. No glass bottles. No fire hazards. Bring deodorant. Bring a toothbrush. Don't forget your towel. Space for sleeping bags will not be available this year. No one under 18 admitted without parental supervision. All bags are subject to inspection before admittance.
STAGE RULES: It is no longer possible to remove the classroom A/V equipment from the stage (stage right/house left side) for Marathon. Aside from losing precious mattress/sleeping bag real estate, we must prevail upon our audience to not fiddle with, place, store, or spill food & beverages on, fold, spindle, mutilate, or otherwise in any way disturb that equipment.

COVID-19 RULES: In addition to the added safety measures listed in our in-person attendance statement, all participants must follow all our covid procedures listed on our dedicated COVID-19 page films.case.edu/covid-19. Anyone caught intentionally breaking any of these rules will be asked to leave the auditorium without a refund.
Rules subject to change at the discretion of the CWRU Film Society. Check back closer to the event for any additional rules.
---
Detailed Movie Descriptions
Friday, May 21st
6:00 p.m. Johnny Mnemonic (1995)
Rated R (96 min)
Director: Robert Longo
With Keanu Reeves, Dolph Lundgren, Dina Meyer
Format: TBA
A data courier, literally carrying a data package inside his head, must deliver it before he dies from the burden or is killed by the Yakuza.
Read more about it at the IMDB
Find where to Stream/Rent/Buy
8:20 p.m. Total Recall (1990)
Rated R (113 min)
Director: Paul Verhoeven
With Arnold Schwarzenegger, Sharon Stone, Michael Ironside
Format: TBA
When a man goes in to have virtual vacation memories of the planet Mars implanted in his mind, an unexpected and harrowing series of events forces him to go to the planet for real - or is he?
Read more about it at the IMDB
Find where to Stream/Rent/Buy
10:25 p.m. SURPRISE 1: Werewolves on Wheels (1971)
Rated R (120 min)
Director: Michel Levesque
With Steve Oliver, Donna Anders, Gene Shane Format: TBA
A biker gang and its leader fall prey to a satan worshipper and his cult.
Read more about it at the IMDB
Find where to Stream/Rent/Buy
Saturday, May 22nd
12:00 a.m. Gog (1954)
Not Rated (83 min)
Director: Herbert L. Strock
With Richard Egan, Constance Dowling, Herbert Marshall
Format: TBA
A security agent investigates sabotage and murder at a secret underground laboratory, home of two experimental robots.
Read more about it at the IMDB
Find where to Stream/Rent/Buy
1:35 a.m. Minority Report (2002)
Rated PG-13 (145 min)
Director: Steven Spielberg
With Tom Cruise, Colin Farrell, Samantha Morton
Format: 35mm Film
In a future where a special police unit is able to arrest murderers before they commit their crimes, an officer from that unit is himself accused of a future murder.
Read more about it at the IMDB
Find where to Stream/Rent/Buy
4:05 a.m. Dark Star (1974)
Rated G (83 min)
Director: John Carpenter
With Dan O'Bannon, Dre Pahich, Brian Narelle
Format: TBA
In the far reaches of space, a small crew, 20 years into their solitary mission, find things beginning to go hilariously wrong.
Read more about it at the IMDB
Find where to Stream/Rent/Buy
5:40 a.m. Schlock (1973)
Rated PG (80 min)
Director: John Landis
With John Landis, Saul Kahan, Joseph Piantadosi
Format: DCP
A small town is terrorized by "The Banana Killer", which turns out to be the missing link between man and ape.
Read more about it at the IMDB
Find where to Stream/Rent/Buy
7:40 a.m. Mystery Men (1999)
Rated PG-13 (121 min)
Director: Kinka Usher
With Ben Stiller, Janeane Garofalo, William H. Macy
Format: DCP
A group of inept amateur superheroes must try to save the day when a supervillain threatens to destroy a major superhero and the city.
Read more about it at the IMDB
Find where to Stream/Rent/Buy
9:55 a.m. Gattaca (1997)
Rated PG-13 (106 min)
Director: Andrew Niccol
With Ethan Hawke, Uma Thurman, Jude Law
Format: TBA
A genetically inferior man assumes the identity of a superior one in order to pursue his lifelong dream of space travel.
Read more about it at the IMDB
Find where to Stream/Rent/Buy
12:30 p.m. SURPRISE 2: Spaceballs (1987)
Rated PG (96 min)
Format: Blu-ray
A star-pilot for hire and his trusty sidekick must come to the rescue of a princess and save Planet Druidia from the clutches of the evil Spaceballs.
Read more about it at the IMDB
Find where to Stream/Rent/Buy
2:20 p.m. Real Genius (1985)
Rated PG (108 min)
Director: Martha Coolidge
With Val Kilmer, Gabriel Jarret, Michelle Meyrink
Format: TBA
Teenage geniuses deal with their abilities while developing a high-powered laser for a university project. When their professor intends to turn their work into a military weapon, they decide to ruin his plans.
Read more about it at the IMDB
Find where to Stream/Rent/Buy
4:20 p.m. The Invisible Man (1933)
Not Rated (77 min)
Director: James Whale
With Claude Rains, Gloria Stuart, William Harrigan
Format: DCP
A scientist finds a way of becoming invisible, but in doing so, he becomes murderously insane.
Read more about it at the IMDB
Find where to Stream/Rent/Buy
5:45 p.m. Alien: Covenant (2017)
Rated R (122 min)
Director: Ridley Scott
With Michael Fassbender, Katherine Waterston, Billy Crudup
Format: TBA
The crew of a colony ship, bound for a remote planet, discover an uncharted paradise with a threat beyond their imagination, and must attempt a harrowing escape.
Read more about it at the IMDB
Find where to Stream/Rent/Buy
8:30 p.m. Star Trek IV: The Voyage Home (1986)
Rated PG (122 min)
Director: Leonard Nimoy
With William Shatner, Leonard Nimoy, DeForest Kelley
Format: TBA
To save Earth from an alien probe, Admiral James T. Kirk and his fugitive crew go back in time to San Francisco in 1986 to retrieve the only beings who can communicate with it: humpback whales.
Read more about it at the IMDB
Find where to Stream/Rent/Buy