ATTENTION SCI-FI MARATHON PATRONS! Free parking will be in Lot 1A. This is a surface lot off of Martin Luther King, Jr. Blvd behind Emerson Gym. Instructions on how to get to this lot can be found on our Location web page.
Movies and times subject to change. Tickets go on sale Friday, Jan. 17 at 6pm in the lobby of Strosacker Auditorium. Admission: $25. No one under 18 admitted without parental supervision.
8:00pm Planet of the Apes (2001)
10:15pm Flight of the Navigator (1986)
12:00am Surprise I (Howard the Duck (1986))
2:00am Heavy Metal (1981)
3:30am Firestarter (1984)
5:30am Surprise II (Solaris (1972))
8:30am Thunderbirds are GO! (1966)
10:15am They Live (1988)
11:45am Red Planet (2000)
1:45pm Earth vs. the Flying Saucers(1956)
3:15pm Jimmy Neutron: Boy Genius (2001)
5:00pm Surprise III (Tron (1982))
6:45pm Metropolis (1927/2001)
9:30pm Stargate (1994)
11:45pm Impostor (2002)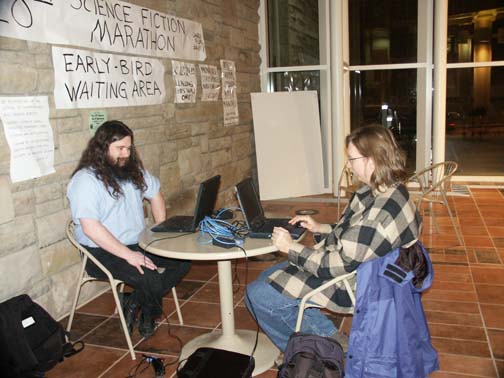 Here are the same first 2 guys to arrive for the Marathon. They got here at 6am, Friday morning.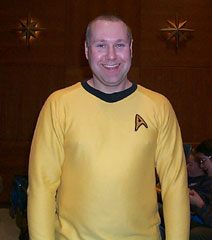 See Rich Drushel's pictures of the Marathon.